Philips DVP3360_12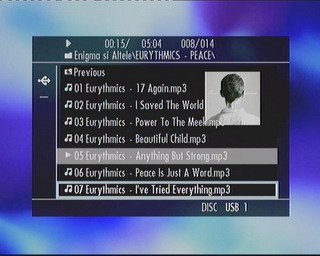 "1 sec. srt bug" fixed.
Patch subtitle area and move subtitles in a "better" position.
Patch subtitle color. White subtitle with black outline.
4 fonts for subtitles. (small, standard, medium and large)

auto-load subtitles.

Up to 46 char. in filebrowser (CD/DVD and USB).
Show extension for files.

New wordwrap

and reformat, better, not perfect.

Vertical position

for subtitles. 16 levels.
Add "Romanian" language for DVD.

GoTo (Time Search)

. Press "Title/Back" twice and enter h:mm:ss to jump (first time display "Select", second press display "GoTo"

Volume stored!

Option to change color for subtitles. Change color for text, outline, background.

Option for transparent background, work when background is non-transparent.

Slideshow option. Now you can turn on/off, set transition speed and duration.

Load ORG. Then All.

Options: "Load original than all" , "All Subtitles" (first 10) and "Matching name". IMPORTANT: Use this version only if you don't use ssa or smi subtitles. This version is 5_1.
Instruction for upgrading HERE
Version for CP 1250, 1251, 1252, 1253 and 1254 (CP = Code Page)
Note: For first update or if you have problems with subtitles after update, make this steps:
Important: After update, change font and color to activate new option for subtitles. For slideshow options, change several times settings(on/off, transition and delay) to activate new options.
Download

Comments
suba me say:
bOsIee This blog has lots of very useful stuff on it. Thanks for sharing it with me!
Friday, 21 December,2018 06.04
NikolasZ say:
I see big improvements of video quality of tv shows, but those videos lags.
It looks like slow cpu for decoding videos?
Thursday, 9 August,2012 16.58
Claudio say:
To NikolasZ: If you experience problems with abrupt stops of some videos, check out the program with which it has been encoded (divx for example).
For such videos I just re-encoded them with VirtualDub and then I could watch them without problems.
Thursday, 15 March,2012 20.03
NikolasZ say:
www.claudiokuenzler.com/blog/141/philips-dvp-3360-divx-play-problems-abrupt-stop
Sunday, 5 February,2012 17.37
NikolasZ say:
1 bug here, this i test all known firmares and movie cannot play like more then 1.19 minutes while movie size is more then 1-2gigabyte big.
Some guy complain here too.
Sunday, 5 February,2012 17.34
florinpedros say:
Super.La DVP3350 nu merg facute aceleasi imbunatatiri?
Saturday, 21 January,2012 20.28
teste say:
test de vazut cum merge
Monday, 28 February,2011 17.54
Add a comment: